This article will show you how to build an 8×12 shed like this using my Regular Gable Roof Shed Plans.
Features Of This Shed Design
Roof line: Gable
Roof pitch: 3/12
Overhang: 3 1/2 inch or 5 1/2 inch option
Roof covering: Asphalt shingles
Roof structure: 2×4 trusses 24 inch O.C.
Foundation: Pressure treated 4×4 skids
Floor joists: (8 wide) 2×4 at 16 inch O.C. (10/12 wide) 2×4 at 16 inch O.C.
Floor covering: 3/4 inch CDX plywood
Wall materials: 4×8 sheets of hardboard siding or T-111
Wall stud spacing: 2×4 at 24 inch O.C.
Wall framing: top and bottom plates with double corner studs
Door style: Out swinging shed door
Door location: Can be located any where on any wall
Overall height at peak, not including foundation: 8 ft
Outside wall height at eaves, not including foundation: 7 ft
Door opening: 43 inches by 71 inches
Minimum inside height: 77 inches
Maximum inside height: 92 inches
Inside height under collar beam: 84 inches
.
The 10 Steps
Construction is broken down into the following 10 steps which are common to all of my shed plans…
1) Foundation
2) Floor
3) Trusses
4) Walls
5) Door
6) Raise walls
7) Open door
8) Roof structure
9) Trim
10) Shingle roof
I decided to put all 10 steps in the same article so it will flow better and maybe be easier to go back and forth between the steps.
This site will show you how to build a wooden storage shed or garden shed in 21 different sizes from 8×4 to 12×20 as listed across the top of Table 1.
Once you have decided what size shed you want to build, purchase the number of items shown below your chosen size in Table 1.
Ask your building supply store for their estimate for fasteners as you are purchasing the lumber.
There are four places where building an 8 wide and a 10-12 wide shed differ.
These details are explained in full in the appropriate step.
I just want to point them out so you will be aware that most of the procedure is the same.
8 wide sheds use 2×4 floor joists, 10-12 wide sheds use 2×6 floor joists
You should should add some 2×4 blocking where the large and small pieces of plywood join on 10-12 wide sheds for extra floor strength
You will need to splice a 3 to 6 inch piece of scrap siding at the top of the gable end truss on 10-12 wide sheds
On a 10 wide shed door you will need to change the spacing and add one additional upright to the inner door frame
Otherwise the differences are the length and number of components you will need, as detailed in Tables 2 and 3.
When a Figure show a letter ("A", "B", "C" etc.), you can find this dimension in table Table 2.
Table 3 shows the number of floor joists, wall studs and trusses you will need based on the length of the floor/wall your are building. For example if you are building a 12 foot long floor, you will need 10 floor joists. But if you are building a 12 foot wall you will need 7 studs for that wall.
But first I have several recommendations that will save you time, money and effort.
Buy 2×4 Precut studs if you can find them
The first is to use 2×4 precut studs if you can find them. Precuts are 2×4's that are 92 5/8 inches long as opposed to the normal 8 ft.Use them for wall studs and trusses and you'll save 25 to 50 cents per board.
If your building supply store doesn't carry them then just use full 2x4x8ft lumber.
Use screws instead of nails
The second thing I suggest is to use screws instead of nails. Screws have better pulling power and can pull a twisted board into place better than a nail can. Screws also have better holding power. This means they will hold your 2×4 frame in place tighter and longer time than nails can.
Drill 1/8 inch pilot holes
Whether you're using screws or nails I recommend drilling 1/8 inch pilot holes when assembling the frame because this will prevent splitting the ends of your boards. Also your nails or screws will not go astray because of the grain of the wood, nor will you have a problem with knots.
This might add a little additional time to your shed building project but it will make construction much easier for the novice builder. But if you have a nail gun then by all means use it. Just be careful to not split the ends of your wood.
Use pre primed composite hardboard siding
Using pre primed 4×8 sheets of composite hardboard siding will allow you to build your shed in the least amount of time and for the least amount of money. And composite siding holds paint much better than natural wood.
This will save you the step of applying a base coat of primer and your paint job will last longer. Which means you won't have to repaint your shed as often.
Make your own trim
Make your own trim from sheets of composite hardboard siding. You can buy 4×8 sheets of the same siding but with no grooves, and rip them into 2 1/2 inch strips with a table saw.
If your building supply store doesn't sell no groove siding then just use regular grooved siding. But then you will have to spend a little additional time cutting around the grooves if you want your trim to look its best. Two sheets of no groove siding will give you more than enough trim to build up to a 12×20 shed.
You don't absolutely need a table saw. You can cut the trim strips with a circular saw but your cuts will not be nearly as clean as with a table saw. In fact I suggest that you borrow or rent a table saw if you don't have one because it will give you a much cleaner finished shed.
Tools
Here's a list of tools you'll need to build your shed. If you don't have some of them likely you know someone who does who will let you borrow them for a week end or two.
Hand tools
Claw hammer
Tape measure and pencil
Speed square
Level
Chaulk line
Tin snips
Step ladder
Utility knife
Hand saw
Power tools
Extension chords
Circular Saw
Electric drill, 1/8 inch drill bits and philips screw driver bits
Router with a 1/4 inch bit and a follow collar
Table saw
Paint Equipment
Caulk gun
Brush
Roller and cage (or spray gun)
Disclaimers
Now before we get started with the actual building I have a couple of disclaimers…
Building Permits
You might need building permits to build a shed in your area so check with your local building department before you get started.
Building codes
The construction techniques in these plans might not meet building codes in your area as they vary around the country. So your building department might ask you to make a few changes to these plans.
But the building departments are usually very helpful and will let you know exactly what their requirements are.
No guarantees
Even though I have build thousands of sheds like this with no problems, I make no guarantees about the structural integrity of this shed.
Step 1: Foundation
The main function of your sheds foundation is to transfer the weight of your shed and its contents to the ground.
But it also serves several other important functions.
It provides a way to level your shed if necessary
It protects your sheds floor against moisture
And it protects your shed against termites
When necessary can protect your shed from movement resulting from frost heave, water or wind.
4 General Types Of Shed Foundations
Simple skid foundation on earth, gravel or concrete blocks
Wood and concrete pier foundation
Concrete slab which serves as both a foundation and floor
Floor-less foundation when you want to build a shed without a floor
Simple Skid Foundation
See Table 2 and Figure 2
Cut your skids to length using measurement "B" From Table 2 in your shed plans. Don't trust the factory cuts because large pieces of dimensional lumber are usually ¼ to ½ inches longer than stated.
Select a location with adequate drainage then clear and level the building area.
You can lay the skids directly on the ground, on concrete blocks, or on a bed of gravel.
Their spacing will differ depending on the width of the shed you're building. The measurement for the skid spacing is measurement "D" in Table 2, and is shown on Figure 2: Floor Dimensions and Layout.
If your site is fairly level you can lay the skids directly on the ground.
Shed Tie Downs
If you expect to have a problem with your shed moving from frost heave, water or wind, or if it's required by building codes in your area you can tie your shed down.
I've already covered shed tie downs in these other posts…
If you need to then just skip over to my shed tie down posts to see what you need to do before you begin the next step, which is building the floor.
Wood And Concrete Pier Foundation
The location, number, size and depth of the piers might be dictated by building codes. It will also be a function of the weather in your area. You might need to dig down below the frost line to get the best results.
In the absence of building codes and with moderate weather you should have a pier at each corner, about 12 inches in diameter and going down 24 to 36 inches into the ground. In addition you will need a concrete block support every 4 feet or less in between the piers.
Dig Holes
Install Piers
Finished Foundation
Foundation for floor less shed
You don't necessary need a floor in your shed as long as you have a suitable foundation. Here are 2 foundation options if you want to build without a floor.
Pressure treated wood with post and concrete piers
Concrete stem wall
It's important that you build the foundation tall enough to keep the siding away from the ground where moisture and termites will damage your shed. I recommend at least 4 inches of distance between the ground and any untreated wood. Like the bottom edge of the siding.
One way to accomplish this is by increasing the stud length. This will reduce the lower siding overhang and make your walls taller. I recommend a minimum of 1 inch lower siding overhang to prevent water from seeping under the bottom plate.
This means your foundation needs to be at least 5 inches above ground level.
How deep you go will depend on building codes, frost level and if you will have animals trying to dig under your foundation to get in or to escape.
Pressure treated wood with post and concrete piers
Layout perimeter
Install post and piers
Attach shed
Got animals?
As an option you can install more pressure treated wood below ground level to keep animals from digging under the walls.
Concrete stem wall
Another option is to build a concrete stem wall.
Attach with j-bolts
Step 2: Floor
If you live in an exceptionally wet area or have a major termite problem you might want to use pressure treated wood for the entire floor including the skids, the floor joists and the plywood sheeting.
This will add to the initial cost of your shed but it might also save you money in the long run because a floor built with pressure treated lumber will last longer in these areas.
Prepare your materials… See Table 1 and Table 2: Get the number of floor joists you will need from Table 3, and the cut length for the band boards and floor joists and skid spacing from Table 2.
See Figure 2: Cut your band boards and floor joists and lay out the band boards for 16 inches on center and drill two pilot holes for each 2x4joist, or three holes for each 2×6 joist.
If you are building an 8 wide and using 2″x4″x92 5/8″ precuts then you can use them here without any cutting. They will be 3/8″ short but this will be split in half to 3/16″ on either side when you cover the floor with plywood. You will save a few dollars over 2″x4″x8'ers and no one will be the wiser.
10 and 12 wide sheds use 2″x6″ joists so you will have to cut them to length.
Frequently asked questions
How strong is this floor?
My standard floors are strong enough for almost any application. I have a 24×20 shed (garage) floor built with 2×6's at 16 inch O.C. and 4×4 skids at 48 inch O.C that I have been parking 2 full sized pickups on for the last 5 years, and the floor is still sturdy.
How can I make the floor stronger?
You can make the floor stronger by putting the skids, blocks and joist closer together. 12 inch O.C. for the joists is about as strong as you can get. Put a few more skids underneath and more blocks under the skids making them closer together will add a lot of strength.
Then you could use larger joists, like 2×8 or 2×10.
And finally you can add another layer of plywood or 2 on top of the existing one.
Step 3: Trusses
Make the trusses now because you'll need two of them to build the gable end walls in the next step.
It's important that all your trusses be the same height and width so that the ridge line of your new shed will be symmetrical. You can do this by making a simple jig.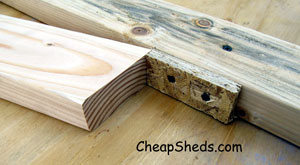 Make a jig: Place two pencil marks eight feet apart on the edge of the unused 2×4 top plate.
Now cut two small pieces of wood and screw them to the outside of these marks. Then screw this jig assembly to the floor.
Prepare your materials: Measure and cut the pieces for the trusses. Use a speed square to mark the angles.
Drill a pilot hole in one of the pointy ends of every other truss piece so you can toe nail them together at the top joint. Also drill four pilot holes in both ends of the collar beams.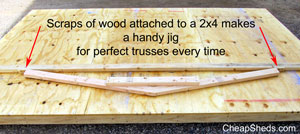 Assemble trusses: Put the ends of two truss pieces into the jig and press everything together.
Toe nail the top joint with a single screw through the pilot hole.
Position a collar beam parallel to the jig and screw it to the truss with four screws on each side.
Make a pencil mark on the floor along the top of the truss so you can compare the rest of your trusses to this mark as you build them. If a truss is off significantly you will know it immediately.
After you have built all the trusses you can double check them by standing them up on end and measuring the distance from the floor to the peak of the truss. If they are all equal (or close enough), then you are finished and can disassemble the jig.
If some of your trusses are slightly off, don't despair. If you use them properly this will not be a problem. Simply use the shortest pair of trusses to build the gabled ends with. Use the single tallest truss in the center of the shed. Use the next tallest pair, one truss on either side of the center truss. Use the last pair next to the gable ends. This way the roof will still be symmetrical and you won't not have to waste or rebuild the less than perfect trusses.
Step 4: Walls
You will build all the walls directly on the empty floor.
You'll want to build the shorter walls first so you can move them aside and use the floor space to build the longer and heavier walls in place. Here I'm assuming the gable end walls are the shorter and therefore lighter walls.
If not go to Step 4b and build the sidewalls first, move them aside, then come back here to build the gable end walls in place.
4a: Gable end walls
See Figure 4a and Table 2:
Measure and cut the wall studs and plates for the gable end walls. Layout the top and bottom plates at 24" O.C. and drill two 1/8 inch pilot holes for each stud.
Paint Now?
Now that all the walls are complete you might want to paint the walls and trim while you can work on them laying horizontally. They will be much easier to paint this way.
Buy The Plans To Build This Shed
Lean To Style Plans Available NOW!

PLEASE NOTE: The instant download link will be delivered to the email address associated with your PayPal account or your credit card.

PayPal, Visa, Mastercard, Discover
You'll receive a download link instantly in your e-mail
Plans are in PDF format for convenient printing on 8.5 x 11 paper
You don't have to decide what size plans to buy because you get all 21/31/45 sizes
These plans have been written in great detail specifically for you – the first time shed builder

Includes dimensions for 45 shed sizes

Option for a full size porch

1.5/12 roof pitch
2, 4-6, 12 inch overhang options
45 sizes from 4×4 to 12×20
4 height options from 60 inches to 12 ft
Any custom length, width or height
Single and double doors
Floor studs 16 inch O.C.
Wall studs 16 inch O.C.
Rafters 16 inch O.C.
Single top plates
Instructions and details to build a porch
Bike shed ideas
Frame for pre hung doors and windows

Includes 3/12, 6/12 & 12/12 roof pitches with full 12 inch overhang

3/12, 6/12 and 12/12 roof pitch options
12 inch overhang
31 sizes from 8×4 to 16×32
8, 10, 12, 14 & 16 ft widths
Single and double doors
Floor studs 12 inch O.C.
Wall studs 16 inch O.C.
Roof trusses 16 inch O.C.
Double top plates
Includes 48 inch loft the length of the shed with an optional gable end door
Frame for pre hung doors and windows

Updated to include:
10 Larger sizes,
Overhang &
Crows Beak

Also includes original version without overhang

Gambrel style barn roof
12 inch overhang (option)
31 sizes from 8×4 to 16×32
8, 10, 12, 14 & 16 ft widths
Crows Beak (option)
Single and double doors
Floor studs 12 inch O.C.
Wall studs 16 inch O.C.
Roof trusses 16
or 24 inch O.C.
Double top plates
Includes full width loft
Frame for pre hung doors and windows

Feedback

"Just wanted to compliment you on your plans and videos. I'm about half way thru and things are working out very well. Everything has been very straight forward. Would have been much harder without your plans and instruction. Thanks so much."

"Thanks for your shed plans. I think I looked at every major plan outlet online and otherwise and I found your plans to be the most straightforward, easy to read and use, and easy to customize without fuss. I was worried with the name cheapsheds.com, but this shed I'm building from your plans is anything but cheap and I'm certain it will last the better part of the next 30 years. Great job on these plans."

"I liked your plans and it made building a nice shed much easier. Keep up the good work."

Includes Dimensions For All These Sizes

4×4 – 4×20
6×4 – 6×20
8×4 – 8×20
8×4 – 8×16
8×4 – 8×16
8×4 – 8×16
10×4 – 10×20
10×8 – 10×20
10×8 – 10×20
10×8 – 10×20
12×4 – 12×20
12×8 – 12×20
12×8 – 12×20
12×8 – 12×20
14×16 – 14×32
14×16 – 14×32
16×16 – 16×32
16×16 – 16×32

Features Of These Sheds

Similarities:

Floor covering: 3/4 inch plywood
Foundation: Pressure treated skids, concrete slab or floor less foundation
Wall materials: 4×8 sheets of hardboard siding or T-111
Door style: Out swinging shed door
Door location: Can be located any where on any wall
Door options: Single door, double door, wider or narrower door
Door options: Frame for pre-hung doors and windows

Differences:

Roof line: Single slope lean-to style
Roof pitch: 1.5/12
Roof covering: Rolled or metal
Overhang: 1-6 inch or 12 inch
Roof structure: 2×4 or 2×6 rafters
Floor joists: (8 wide) 2×4 at 16 inch O.C. (10/12 wide) 2×6 at 16 inch O.C.
Wall stud spacing: 2×4 at 16 inch O.C.
Wall framing: Single top and bottom plates with double corner studs

Roof line: Gable
Roof pitch: 3/12, 4/12, 5/12
Roof covering: Asphalt shingles
Roof structure: 2×4 trusses
Overhang: 2, 3 1/2, 5 1/2 inch
Floor joists: (8 wide) 2×4 at 16 inch O.C. (10/12 wide) 2×6 at 16 inch O.C.
Wall stud spacing: 2×4 at 24 inch O.C.
Wall framing: Single top and bottom plates with double corner studs

Roof line: Gable
Roof pitch: 6/12 or 12/12
Roof covering: Asphalt shingles
Roof structure: 2×4 trusses
Overhang: About 12 inchs
Floor joists: 2×6 at 12 inch O.C.
Wall stud spacing: 2×4 at 16 inch O.C.
Wall framing: Double top and single bottom plates with double corner studs

Roof line: Gambrel (barn style)
Roof pitch: Combination of 29/12 lower section, 4/12 upper section
Roof covering: Asphalt shingles
Roof structure: 2×4 trusses
Overhang: About 12 inches
Floor joists: 2×6 at 12 inch O.C.
Wall stud spacing: 2×4 at 16 inch O.C.
Wall framing: Double top and single bottom plates with double corner studs

General notes:

The biggest difference between these shed plans is the roof line. All sheds can be built with roof trusses and wall studs 16 or 24 inch O.C. and floor joists 12 or 16 inch O.C. and use 2 to 5 skids in the foundation. All of the sheds can be built taller or shorter and doors installed anywhere you like.

These are the most versatile plans because they offer so many size and height options.

And it has a low profile with no complicated trusses to build.

This is one of the easiest sheds to build because it uses a simple truss design and small but easy to build overhang options.

These sheds look great!

And the higher roof pitches offer additional overhead storage in an easy to build loft area.

The barn style shed is very tall and might block yours or your neighbors views.

However if you can manage the barn style shed looks great and provides lots of additional storage if you build the optional loft.

Dimensions

Overall outside height at peak, not including foundation. For foundation add 4″ for skids and 2″ to 4″ for concrete blocks.
Lowest profile option

Medium height option

Tall option

6 ft wide: 9′ 2″
8 ft wide: 9′ 5″
10 ft wide: 9′ 10″
12 ft wide: 10′ 1″

Extra tall option

Up to 12′ with 10′ minimum wall height

Standard 3/12 pitch

8 ft wide: 8′
10 ft wide: 8′ 3″
12 ft wide: 8′ 6″

Standard 7ft sidewall height

8 ft wide: 9′
10 ft wide: 9′ 3″
12 ft wide: 9′ 6″

Optional 8ft sidewall height
You can make this shed shorter if necessary by removing the same amount from all vertical cut dimensions.

12/12 pitch

8 ft wide: 12′
10 ft wide: 13′
12 ft wide: 14′
14 ft wide: 15′
16 ft wide: 16′

6/12 pitch

8 ft wide: 10′
10 ft wide: 10.5′
12 ft wide: 11′
14 ft wide: 11.5′
16 ft wide: 12′

These dimensions are for standard 8ft side wall height using optimal stud length.

8 ft wide: 12′
10 ft wide: 13′
12 ft wide: 14′

These dimensions are for standard 8ft side wall height using optimal stud length.

Minimum inside wall height (headroom) under end of truss or rafter
Lowest profile option

Medium height option

4 ft wide: 82-86″ *
6 ft wide: 79-83″ *
8 ft wide: 76-80″ *
10 ft wide: 69-75″ *
12 ft wide: 66-72″ *

* Depending on overhang option

Tall option

4, 6 & 8 ft wide: 92″
10 & 12 wide: 90″

Extra tall option

All widths: 9′ 4″ or more

Add 3 to 5 inches if you build on a concrete slab.

76 1/2″ for standard 7ft side wall height
88 1/2″ for optional 8ft side wall height

Add 3 to 5 inches if you build on a concrete slab.

90″ for optimal side wall height
95″ for maximum side wall height

Add 3 to 5 inches if you build on a concrete slab.

90″ for optimal side wall height
95″ for maximum side wall height

Add 3 to 5 inches if you build on a concrete slab.

Buy Now

Table of contents

Step by step instructions

General notes
Step 1: Foundation
Step 2: Floor, wood
Step 2a: Floor, concrete
Step 3: Sloped walls
Step 4: Tall and short walls
Step 5a: Prehung doors and windows
Step 5b: Single shed door
Step 5c: Double shed door
Step 5d: Open the shed door
Step 6: Frame and sheet the roof
Step 7: Trim
Step 8: Roof covering
Step 9: Paint and maintenance
Build a porch
Build a ramp
Bike sheds
How to contact me

Videos
Getting Started
Step 1: Foundation
Step 2: Floor
Step 3: Trusses
Step 4: Frame Walls
Step 5: Frame Door
Step 6: Raise Walls
Step 7: Finish Door
Step 8: Frame Roof
Step 9: Trim
Step 10: Shingle Roof
Maintenance
Build a ramp
How To Contact Me

General notes
Step 1: Foundation
Step 2: Floor, wood
Step 2a: Floor, concrete
Step 3: Trusses
Step 4: Walls
Step 5a: Prehung doors and windows
Step 5b: Single shed door
Step 5c: Double shed door
Step 5d: Open the shed door
Step 6: Frame and sheet the roof
Step 7: Trim
Step 8: Shingle the Roof
Step 9: Paint and maintenance
Build a loft
Build a ramp
How to contact me

General notes
Step 1: Foundation
Step 2: Floor, wood
Step 2a: Floor, concrete
Step 3: Trusses
Step 3a: Adding overhang
Step 3b: Adding a crows beak
Step 4: Walls
Step 5a: Prehung doors and windows
Step 5b: Single shed door
Step 5c: Double shed door
Step 5d: Open the shed door
Step 6: Frame and sheet the roof
Step 7: Trim
Step 8: Shingle the Roof
Step 9: Paint and maintenance
Build a loft
Build a ramp
How to contact me

Dimensions and Quantities Tables

Table 1: Materials list and cost estimate worksheet
Table 1: Notes
Table 2a: Dimensions that vary with the length and width of the shed
Table 2a: Notes
Table 2b: Dimensions that vary with the height and overhang
Table 2b: Notes
Table 3: Number of pieces to cut
Table 4: Nailing Schedule
Table 5: Fraction to decimal converter

Table 1: Materials list and cost estimate worksheet
Table 2: Dimensions that vary with the length and width of the shed
Table 3: Number of pieces to cut

Table 1: Materials list and cost estimate worksheet for 8×4 through 12×20
Table 1a: Materials list and cost estimate worksheet for 14×16 through 16×32
Table 1: Notes
Table 1a: Notes
Table 2: Dimensions that vary with the length and width of the shed
Table 2: Notes
Table 3: Number of pieces to cut
Table 4: Nailing Schedule
Table 5: Truss dimensions 6/12 & 12/12 pitch
Table 5: Notes

Table 1: Materials list and cost estimate worksheet
Table 2: Dimensions that vary with the length and width of the shed
Table 3: Number of pieces to cut
Table 4: Nailing Schedule

Building Details and Figures

Figure 1.1, Skid spacing
Figure 1.2, Concrete block spacing
Figure 2.1, Floor dimensions
Figure 2.2, Rim joist splice for floor over 20ft
Figure 2.3, Floor frame complete
Figure 3.1, Sloped wall dimensions
Figure 3.2, Tall wall dimensions
Figure 3.3, Short wall dimensions
Figure 3.4, Rafter cut template
Figure 3.5, Wall framing diagram
Figure 3.6, Sloped wall framing layout for 6 & 10 ft wide sheds
Figure 3.7, Sloped wall framing layout for 4, 8 & 12 ft wide sheds
Figure 4.1, Tall and short wall framing layout for 6, 10, 14 & 18 ft length sheds
Figure 4.2, Tall and short wall framing layout for 4, 8, 12, 16 & 20 ft length sheds
Figure 4.3, Top plate spacing detail for tall and short walls
Figure 4.4, Blocking required for sheds that are 8 ft or more at the short wall
Figure 5a, Frame for prehung doors and windows
Figure 5b.1, Outer door frame
Figure 5b.2, Inner door frame
Figure 5b.3, Complete single door frame
Figure 5b.4, Nailing sequence
Figure 5b.5, Chalk lines, cut lines
Figure 5b.6, Inner door trim
Figure 5b.7, Complete door trim showing 7/16 inch gap between inner and outer trim
Figure 5c.1, Inner door uprights, siding breaks, and cripple stud spacing
Figure 5c.2, Inner door spacers and uprights
Figure 5c.3, Door trim spacing and underlying cut lines
Figure 5c.4, Complete door trim
Figure 6.1, 1-6 inch overhang combinations
Figure 6.2, Full overhang combinations
Figure 6.3, 1-6 inch overhang detail before trim boards
Figure 6.4, Side view 1-2 inch overhang details
Figure 6.5, Side view 4-6 inch overhang with trim boards
Figure 6.6, Full overhang detail
Figure 6.7, Full overhang showing bird boards between rafters
Figure 6.8, Full overhang top view
Figure 6.9, Full overhang showing rafter support cut-outs and spacing
Figure 7.1, Porch side view
Figure 7.2, Porch components
Figure 7.3, Porch front view
Figure 8.1, Compact vertical bike shed
Figure 8.2, Interior dimensions of my original compact bike shed
Figure 8.3, Free standing 4×8 vertical bike shed
Figure 8.4, Flush fit 4×8 vertical bike shed
Figure 8.5, Interior dimensions for a 4×8 vertical bike shed
Figure 8.6, Top view showing clearance and fit for large bikes
Figure 8.7, 4×8 Gable roof vertical bike shed
Figure 8.8, Low profile bike shed
Figure 8.9, End view and trim details
Figure 8.10, Small door framing details
Figure 8.11, Interior dimensions for 96 inch long low profile bike shed
Figure 8.12, Interior dimensions for 72 inch long low profile bike shed

Figure 1: Detailed view of framing
Figure 2: Floor dimensions and layout
Figure 3: Simple jig, truss components
Figure 4a: Gable end wall layout showing stud spacing and bottom siding overhang
Figure 4b: Front cross section showing 14 degree angle on sidewall studs
Figure 4c: sidewall stud spacer detail
Figure 4d: Sidewall layout showing stud spacing and siding overhang
Figure 5a: Outer door frame including sandwiched header
Figure 5b: Inner door frame
Figure 5c: Nailing sequence
Figure 5d: Chalk lines
Figure 5e: Complete door trim showing 7/16 inch gap between inner and outer door trim
Figure 6: Wall dimensions and layout
Figure 7: First router cut
Figure 8: Sidewall cross section with truss layout
Figure 8a: Sidewall cross section with optional overhang
Figure 9: Trim

Figure 1.1, Skid spacing
Figure 1.2, Concrete block spacing
Figure 2.1, Floor dimensions
Figure 2.2, Rim joist splice for floor over 20ft
Figure 2.3, Floor frame complete
Figure 3.1, Truss dimensions
Figure 3.2, Truss jig
Figure 3.3, Extra braces for 14 & 16 wide trusses
Figure 3.4, Finished truss comparison… 6/12 vs 12/12 pitch
Figure 3.5, Gable end blocking
Figure 3.6, Frame a loft door into the gable end
Figure 3.7, Template for 6/12 pitch
Figure 4.1, Wall dimensions
Figure 4.2, Wall layout
Figure 4.3, End wall framing
Figure 4.4, Side wall framing
Figure 5a, Frame for prehung doors and windows
Figure 5b.1, Outer door frame
Figure 5b.2, Inner door frame
Figure 5b.3, Complete single door frame
Figure 5b.4, Nailing sequence
Figure 5b.5, Chalk lines, cut lines
Figure 5b.6, Inner door trim
Figure 5b.7, Complete door trim showing 7/16 inch gap between inner and outer trim
Figure 5c.1, Inner door uprights, siding breaks, and cripple stud spacing
Figure 5c.2, Inner door spacers and uprights
Figure 5c.3, Door trim spacing and underlying cut lines
Figure 5c.4, Complete door trim
Figure 6.1, Roof framing details

Figure 1.1, Skid spacing
Figure 1.2, Concrete block spacing
Figure 2.1, Floor dimensions
Figure 2.2, Rim joist splice for floor over 20ft
Figure 2.3, Floor frame complete
Figure 3.1, Truss dimensions
Figure 3.2, Truss jig
Figure 3.3, Gambrel end framing
Figure 3.4, Overhang details
Figure 3.5, Truss comparison
Figure 3.6, Crows beak dimensions
Figure 3.7, Crows beak framing detail
Figure 3.8, Crows beak sheeting detail
Figure 4.1, Wall dimensions
Figure 4.2, Wall layout
Figure 4.3, End wall framing
Figure 4.4, Side wall framing
Figure 5a, Frame for prehung doors and windows
Figure 5b.1, Outer door frame
Figure 5b.2, Inner door frame
Figure 5b.3, Complete single door frame
Figure 5b.4, Nailing sequence
Figure 5b.5, Chalk lines, cut lines
Figure 5b.6, Inner door trim
Figure 5b.7, Complete door trim showing 7/16 inch gap between inner and outer trim
Figure 5c.1, Inner door uprights, siding breaks, and cripple stud spacing
Figure 5c.2, Inner door spacers and uprights
Figure 5c.3, Door trim spacing and underlying cut lines
Figure 5c.4, Complete door trim
Figure 6.1, Roof framing details

Detailed Dimensions Diagrams

4 ft wide, 60 inch (tall) wall height, 1-6 inch overhang
4 ft wide, 72 inch (tall) wall height, 1-6 inch overhang
4 ft wide, 8 ft (tall) wall height, 1-6 inch overhang
4 ft wide, 8 ft (tall) wall height, full overhang
6 ft wide, 72 inch (tall) wall height, 1-6 inch overhang
6 ft wide, 8 ft (tall) wall height, 1-6 inch overhang
6 ft wide, 8 ft (tall) wall height, full overhang
6 ft wide, 8 ft (short) wall height, full overhang
8 ft wide, 8 ft (tall) wall height, 1-6 inch overhang
8 ft wide, 8 ft (tall) wall height, full overhang
8 ft wide, 8 ft (short) wall height, full overhang
10 ft wide, 8 ft (tall) wall height, 1-6 inch overhang
10 ft wide, 8 ft (tall) wall height, full overhang
10 ft wide, 8 ft (short) wall height, full overhang
10 ft wide, 10 ft (short) wall height, full overhang
12 ft wide, 8 ft (tall) wall height, 1-6 inch overhang
12 ft wide, 8 ft (tall) wall height, full overhang
12 ft wide, 8 ft (short) wall height, full overhang
12 ft wide, 10 ft (short) wall height, full overhang

Options

Foundation for building a shed without a floor
Build on a concrete slab
Single or double shed doors
Frame for pre hung doors and windows
Attached porch
Customize your overhang dimensions
Screened eave ventilation

Foundation for building a shed without a floor
Build on a concrete slab
Single and double doors
3/12, 4/12 and 5/12 roof pitch
7 or 8ft side wall height
2, 3 1/2 or 5 1/2 inch overhang

Foundation for building a shed without a floor
Build on a concrete slab
Single or double shed doors
Frame for pre hung doors and windows
4 ft wide loft
6/12 or 12/12 roof pitch
Customize your overhang dimensions
Screened eave ventilation

Foundation for building a shed without a floor
Build on a concrete slab
12 Inch (custom) overhang on all 4 sides
(Decorative) Crows Beak
Single or double shed doors
Frame for pre hung doors and windows
Full width loft
Screened eave ventilation

Total page count
Over 150 pages
Over 100 pages
Over 100 pages
Over 100 pages

Buy Now