The main function of your sheds foundation is to transfer the weight of your shed and its contents to the ground..
But it also serves several other important functions.
It provides a way to level your shed if necessary
It protects your sheds floor against moisture
And it protects your shed against termites
When necessary can protect your shed from movement resulting from frost heave, water or wind.
4 General Types Of Shed Foundations
Simple skid foundation on earth, gravel or concrete blocks
Wood and concrete pier foundation
Concrete slab which serves as both a foundation and floor
Floor-less foundation when you want to build a shed without a floor
Simple Skid Foundation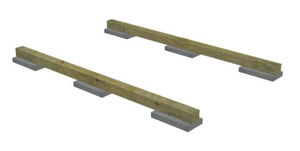 A simple skid foundation consists of two pressure treated runners laid parallel on the ground.
This is a lot cheaper than a concrete slab and has the added benefit of keeping your shed portable should you ever want to move it in the future.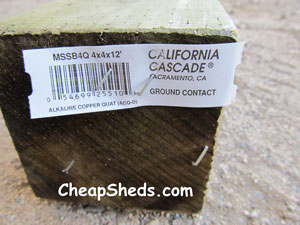 Pressure treated means that the skids are rated for long term ground contact and are resistant to water rot and termite damage.
Pressure treated wood is usually some shade of green as a result of it's chemical treatment and is labeled with a tag to identify it as being pressure treated.
See Table 2 and Figure 2
Cut your skids to length using measurement "B" From Table 2 in your shed plans. Don't trust the factory cuts because large pieces of dimensional lumber are usually ¼ to ½ inches longer than stated.
Select a location with adequate drainage then clear and level the building area.
You can lay the skids directly on the ground, on concrete blocks, or on a bed of gravel.
Their spacing will differ depending on the width of the shed you're building. The measurement for the skid spacing is measurement "D" in Table 2, and is shown on Figure 2: Floor Dimensions and Layout.
If your site is fairly level you can lay the skids directly on the ground.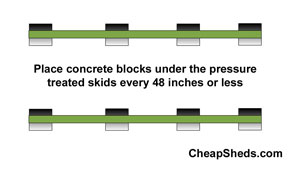 If your site is not level then place concrete blocks under each skid every 4 feet or less and build the low points up with more blocks and wedges until the skids are approximately level.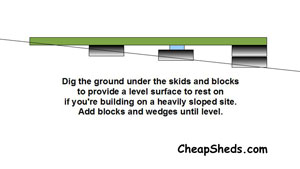 Dig the ground out to provide a stable base for the blocks or skids where necessary.
Don't worry about getting the skids perfectly level at this point because you'll make the final level when the floor frame is complete.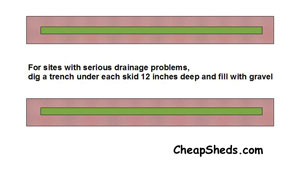 If drainage is a problem you can dig a trench under each skid about 12 inches wide and 12 inches longer than the length of your shed, fill it with gravel and place your skids on top.
Connecting the skids together
As long as you support the joints well you don't need to connect the skids together because they are not structural. Their only purpose is to transfer the weight of the shed to the ground. But if you want to connect them together you have 2 options.
You can use pressure treated 2×4 splices about 48 inches long on either side of the joint, nailed with 16d nails or screws or bolts.
Instead of using 4×4's you can sandwiched two 2×4's or 2×6's together and offset the joint 48 inches and tie them together with 16d nails or screws or bolts.
The second option is better and easier if you want the extra strength.
Shed Tie Downs
If you expect to have a problem with your shed moving from frost heave, water or wind, or if it's required by building codes in your area you can tie your shed down.
I've already covered shed tie downs in these other posts…
If you need to then just skip over to my shed tie down posts to see what you need to do before you begin the next step, which is building the floor.
Wood And Concrete Pier Foundation
The location, number, size and depth of the piers might be dictated by building codes. It will also be a function of the weather in your area. You might need to dig down below the frost line to get the best results.
In the absence of building codes and with moderate weather you should have a pier at each corner, about 12 inches in diameter and going down 24 to 36 inches into the ground. In addition you will need a concrete block support every 4 feet or less in between the piers.
Dig Holes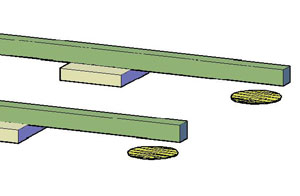 Lay your skids out, level and square them as above. But don't put a support block at the end of the skids where you will place the piers. Mark the ground where you will dig your holes about 6 to 8 inches from the end of the skids.
Move the skids out of the way, dig your holes and put the skids back in place. Measure from the bottom of the skid to the bottom of each hole and cut a pressure treated 4×4 pier 4 inches less than this measurement. This will allow enough room for concrete to flow under the bottom end of the pier to prevent wood to earth contact. Just an extra precaution.
Install Piers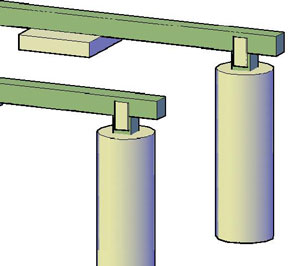 Place the 4×4 piers into their holes and secure them to the skids. You can use a metal mending plate on each side, or a metal strap going over the top of the skid attached to either side of the 4×4 pier. Or you can use a specializes metal Simpson tie if they are avaliable in your local store.
With the 4×4 piers hanging down in the empty holes, re square and re level the skids. When they are correctly positioned then fill the holes with concrete up to ground level and let them dry for a day or two.
Finished Foundation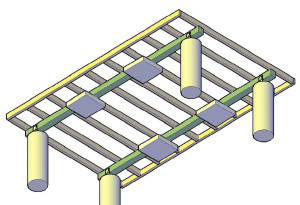 Now you have a solid foundation to build your floor on.
Before you sheet your floor you can add some metal straps or H25's to tie the skids to the floor joists for extra security.
Foundation for floor less shed
You don't necessary need a floor in your shed as long as you have a suitable foundation. Here are 2 foundation options if you want to build without a floor.
Pressure treated wood with post and concrete piers
Concrete stem wall
It's important that you build the foundation tall enough to keep the siding away from the ground where moisture and termites will damage your shed. I recommend at least 4 inches of distance between the ground and any untreated wood. Like the bottom edge of the siding.
One way to accomplish this is by increasing the stud length. This will reduce the lower siding overhang and make your walls taller. I recommend a minimum of 1 inch lower siding overhang to prevent water from seeping under the bottom plate.
This means your foundation needs to be at least 5 inches above ground level.
How deep you go will depend on building codes, frost level and if you will have animals trying to dig under your foundation to get in or to escape.
Pressure treated wood with post and concrete piers
Layout perimeter

Lay out pressure treated 4×6's to make a wooden perimeter frame the same size as the shed. Turn them so they are 6″ tall. Pull a tape measure diagonally across to make sure the frame is square.
This is an example of a foundation frame for a 12×16 shed.
Install post and piers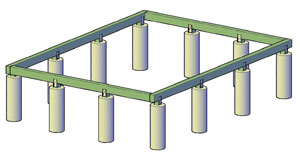 Mark where you want your post and piers to be. Remove the pressure treated wood perimeter frame and install the piers every 4 to 6 ft, as described previously.
And make sure it's level and square then secure the wood perimeter frame to the uprights with galvanized metal straps.
Don't worry about tying the individual perimeter pieces together because once you tie the shed in, that will tie all the foundation pieces together.
Attach shed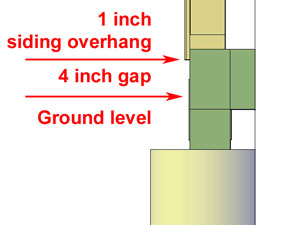 Attach the shed walls to this perimeter frame with 3 inch nails or screws through the bottom plate and galvanized 8d nails every 8 inches through the siding overhang.
This graphic shows a 5 1/2 inch tall frame with 1 inch siding overhang and 4 inch gap from ground level.
Got animals?
As an option you can install more pressure treated wood below ground level to keep animals from digging under the walls.
Concrete stem wall
Another option is to build a concrete stem wall.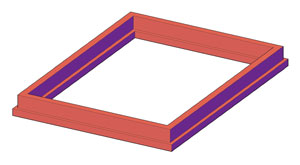 This can be a footer with a concrete block stem wall or a mono pour with the footer and stem wall made at the same time.
Build the outside of the stem wall the same size as your shed.
Attach with j-bolts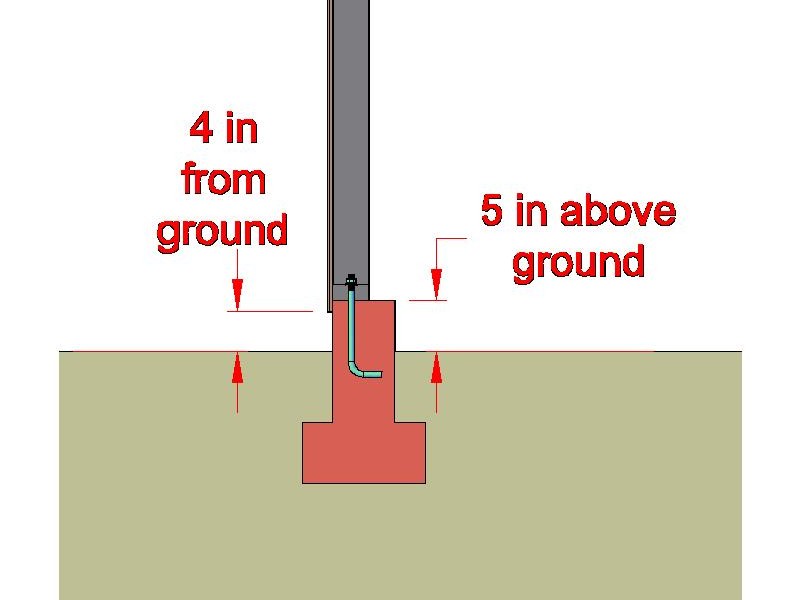 Attach the shed walls to the stem wall with j-bolts embedded in the concrete 12 inches off each corner then 48 inches on center.
The top of the stem wall should be 5 inches above ground level minimum, which makes a 4 inch gap from the ground to the bottom of the siding when using a 1 inch siding overhang.
Buy the plans to build your shed here
Buy All 4 Shed Plans For Only $27.95

PLEASE NOTE: The instant download link will be delivered to the email address associated with your PayPal account or your credit card.

PayPal, Visa, Mastercard, Discover
You'll receive a download link instantly in your e-mail
Plans are in PDF format for convenient printing on 8.5 x 11 paper
You don't have to decide what size plans to buy because you get all 21/31/45 sizes
These plans have been written in great detail specifically for you – the first time shed builder

Includes dimensions for 45 shed sizes

Option for a full size porch

1.5/12 roof pitch
2, 4-6, 12 inch overhang options
45 sizes from 4×4 to 12×20
4 height options from 60 inches to 12 ft
Any custom length, width or height
Single and double doors
Floor studs 16 inch O.C.
Wall studs 16 inch O.C.
Rafters 16 inch O.C.
Single top plates
Instructions and details to build a porch
Bike shed ideas
Frame for pre hung doors and windows

Includes 3/12, 6/12 & 12/12 roof pitches with full 12 inch overhang

3/12, 6/12 and 12/12 roof pitch options
12 inch overhang
31 sizes from 8×4 to 16×32
8, 10, 12, 14 & 16 ft widths
Single and double doors
Floor studs 12 inch O.C.
Wall studs 16 inch O.C.
Roof trusses 16 inch O.C.
Double top plates
Includes 48 inch loft the length of the shed with an optional gable end door
Frame for pre hung doors and windows

Updated to include:
10 Larger sizes,
Overhang &
Crows Beak

Also includes original version without overhang

Gambrel style barn roof
12 inch overhang (option)
31 sizes from 8×4 to 16×32
8, 10, 12, 14 & 16 ft widths
Crows Beak (option)
Single and double doors
Floor studs 12 inch O.C.
Wall studs 16 inch O.C.
Roof trusses 16
or 24 inch O.C.
Double top plates
Includes full width loft
Frame for pre hung doors and windows

Feedback

"Just wanted to compliment you on your plans and videos. I'm about half way thru and things are working out very well. Everything has been very straight forward. Would have been much harder without your plans and instruction. Thanks so much."

"Thanks for your shed plans. I think I looked at every major plan outlet online and otherwise and I found your plans to be the most straightforward, easy to read and use, and easy to customize without fuss. I was worried with the name cheapsheds.com, but this shed I'm building from your plans is anything but cheap and I'm certain it will last the better part of the next 30 years. Great job on these plans."

"I liked your plans and it made building a nice shed much easier. Keep up the good work."

Includes Dimensions For All These Sizes

4×4 – 4×20
6×4 – 6×20
8×4 – 8×20
8×4 – 8×16
8×4 – 8×16
8×4 – 8×16
10×4 – 10×20
10×8 – 10×20
10×8 – 10×20
10×8 – 10×20
12×4 – 12×20
12×8 – 12×20
12×8 – 12×20
12×8 – 12×20
14×16 – 14×32
14×16 – 14×32
16×16 – 16×32
16×16 – 16×32

Features Of These Sheds

Similarities:

Floor covering: 3/4 inch plywood
Foundation: Pressure treated skids, concrete slab or floor less foundation
Wall materials: 4×8 sheets of hardboard siding or T-111
Door style: Out swinging shed door
Door location: Can be located any where on any wall
Door options: Single door, double door, wider or narrower door
Door options: Frame for pre-hung doors and windows

Differences:

Roof line: Single slope lean-to style
Roof pitch: 1.5/12
Roof covering: Rolled or metal
Overhang: 1-6 inch or 12 inch
Roof structure: 2×4 or 2×6 rafters
Floor joists: (8 wide) 2×4 at 16 inch O.C. (10/12 wide) 2×6 at 16 inch O.C.
Wall stud spacing: 2×4 at 16 inch O.C.
Wall framing: Single top and bottom plates with double corner studs

Roof line: Gable
Roof pitch: 3/12, 4/12, 5/12
Roof covering: Asphalt shingles
Roof structure: 2×4 trusses
Overhang: 2, 3 1/2, 5 1/2 inch
Floor joists: (8 wide) 2×4 at 16 inch O.C. (10/12 wide) 2×6 at 16 inch O.C.
Wall stud spacing: 2×4 at 24 inch O.C.
Wall framing: Single top and bottom plates with double corner studs

Roof line: Gable
Roof pitch: 6/12 or 12/12
Roof covering: Asphalt shingles
Roof structure: 2×4 trusses
Overhang: About 12 inchs
Floor joists: 2×6 at 12 inch O.C.
Wall stud spacing: 2×4 at 16 inch O.C.
Wall framing: Double top and single bottom plates with double corner studs

Roof line: Gambrel (barn style)
Roof pitch: Combination of 29/12 lower section, 4/12 upper section
Roof covering: Asphalt shingles
Roof structure: 2×4 trusses
Overhang: About 12 inches
Floor joists: 2×6 at 12 inch O.C.
Wall stud spacing: 2×4 at 16 inch O.C.
Wall framing: Double top and single bottom plates with double corner studs

General notes:

The biggest difference between these shed plans is the roof line. All sheds can be built with roof trusses and wall studs 16 or 24 inch O.C. and floor joists 12 or 16 inch O.C. and use 2 to 5 skids in the foundation. All of the sheds can be built taller or shorter and doors installed anywhere you like.

These are the most versatile plans because they offer so many size and height options.

And it has a low profile with no complicated trusses to build.

This is one of the easiest sheds to build because it uses a simple truss design and small but easy to build overhang options.

These sheds look great!

And the higher roof pitches offer additional overhead storage in an easy to build loft area.

The barn style shed is very tall and might block yours or your neighbors views.

However if you can manage the barn style shed looks great and provides lots of additional storage if you build the optional loft.

Dimensions

Overall outside height at peak, not including foundation. For foundation add 4″ for skids and 2″ to 4″ for concrete blocks.
Lowest profile option

Medium height option

Tall option

6 ft wide: 9′ 2″
8 ft wide: 9′ 5″
10 ft wide: 9′ 10″
12 ft wide: 10′ 1″

Extra tall option

Up to 12′ with 10′ minimum wall height

Standard 3/12 pitch

8 ft wide: 8′
10 ft wide: 8′ 3″
12 ft wide: 8′ 6″

Standard 7ft sidewall height

8 ft wide: 9′
10 ft wide: 9′ 3″
12 ft wide: 9′ 6″

Optional 8ft sidewall height
You can make this shed shorter if necessary by removing the same amount from all vertical cut dimensions.

12/12 pitch

8 ft wide: 12′
10 ft wide: 13′
12 ft wide: 14′
14 ft wide: 15′
16 ft wide: 16′

6/12 pitch

8 ft wide: 10′
10 ft wide: 10.5′
12 ft wide: 11′
14 ft wide: 11.5′
16 ft wide: 12′

These dimensions are for standard 8ft side wall height using optimal stud length.

8 ft wide: 12′
10 ft wide: 13′
12 ft wide: 14′

These dimensions are for standard 8ft side wall height using optimal stud length.

Minimum inside wall height (headroom) under end of truss or rafter
Lowest profile option

Medium height option

4 ft wide: 82-86″ *
6 ft wide: 79-83″ *
8 ft wide: 76-80″ *
10 ft wide: 69-75″ *
12 ft wide: 66-72″ *

* Depending on overhang option

Tall option

4, 6 & 8 ft wide: 92″
10 & 12 wide: 90″

Extra tall option

All widths: 9′ 4″ or more

Add 3 to 5 inches if you build on a concrete slab.

76 1/2″ for standard 7ft side wall height
88 1/2″ for optional 8ft side wall height

Add 3 to 5 inches if you build on a concrete slab.

90″ for optimal side wall height
95″ for maximum side wall height

Add 3 to 5 inches if you build on a concrete slab.

90″ for optimal side wall height
95″ for maximum side wall height

Add 3 to 5 inches if you build on a concrete slab.

Buy Now

Table of contents

Step by step instructions

General notes
Step 1: Foundation
Step 2: Floor, wood
Step 2a: Floor, concrete
Step 3: Sloped walls
Step 4: Tall and short walls
Step 5a: Prehung doors and windows
Step 5b: Single shed door
Step 5c: Double shed door
Step 5d: Open the shed door
Step 6: Frame and sheet the roof
Step 7: Trim
Step 8: Roof covering
Step 9: Paint and maintenance
Build a porch
Build a ramp
Bike sheds
How to contact me

Videos
Getting Started
Step 1: Foundation
Step 2: Floor
Step 3: Trusses
Step 4: Frame Walls
Step 5: Frame Door
Step 6: Raise Walls
Step 7: Finish Door
Step 8: Frame Roof
Step 9: Trim
Step 10: Shingle Roof
Maintenance
Build a ramp
How To Contact Me

General notes
Step 1: Foundation
Step 2: Floor, wood
Step 2a: Floor, concrete
Step 3: Trusses
Step 4: Walls
Step 5a: Prehung doors and windows
Step 5b: Single shed door
Step 5c: Double shed door
Step 5d: Open the shed door
Step 6: Frame and sheet the roof
Step 7: Trim
Step 8: Shingle the Roof
Step 9: Paint and maintenance
Build a loft
Build a ramp
How to contact me

General notes
Step 1: Foundation
Step 2: Floor, wood
Step 2a: Floor, concrete
Step 3: Trusses
Step 3a: Adding overhang
Step 3b: Adding a crows beak
Step 4: Walls
Step 5a: Prehung doors and windows
Step 5b: Single shed door
Step 5c: Double shed door
Step 5d: Open the shed door
Step 6: Frame and sheet the roof
Step 7: Trim
Step 8: Shingle the Roof
Step 9: Paint and maintenance
Build a loft
Build a ramp
How to contact me

Dimensions and Quantities Tables

Table 1: Materials list and cost estimate worksheet
Table 1: Notes
Table 2a: Dimensions that vary with the length and width of the shed
Table 2a: Notes
Table 2b: Dimensions that vary with the height and overhang
Table 2b: Notes
Table 3: Number of pieces to cut
Table 4: Nailing Schedule
Table 5: Fraction to decimal converter

Table 1: Materials list and cost estimate worksheet
Table 2: Dimensions that vary with the length and width of the shed
Table 3: Number of pieces to cut

Table 1: Materials list and cost estimate worksheet for 8×4 through 12×20
Table 1a: Materials list and cost estimate worksheet for 14×16 through 16×32
Table 1: Notes
Table 1a: Notes
Table 2: Dimensions that vary with the length and width of the shed
Table 2: Notes
Table 3: Number of pieces to cut
Table 4: Nailing Schedule
Table 5: Truss dimensions 6/12 & 12/12 pitch
Table 5: Notes

Table 1: Materials list and cost estimate worksheet
Table 2: Dimensions that vary with the length and width of the shed
Table 3: Number of pieces to cut
Table 4: Nailing Schedule

Building Details and Figures

Figure 1.1, Skid spacing
Figure 1.2, Concrete block spacing
Figure 2.1, Floor dimensions
Figure 2.2, Rim joist splice for floor over 20ft
Figure 2.3, Floor frame complete
Figure 3.1, Sloped wall dimensions
Figure 3.2, Tall wall dimensions
Figure 3.3, Short wall dimensions
Figure 3.4, Rafter cut template
Figure 3.5, Wall framing diagram
Figure 3.6, Sloped wall framing layout for 6 & 10 ft wide sheds
Figure 3.7, Sloped wall framing layout for 4, 8 & 12 ft wide sheds
Figure 4.1, Tall and short wall framing layout for 6, 10, 14 & 18 ft length sheds
Figure 4.2, Tall and short wall framing layout for 4, 8, 12, 16 & 20 ft length sheds
Figure 4.3, Top plate spacing detail for tall and short walls
Figure 4.4, Blocking required for sheds that are 8 ft or more at the short wall
Figure 5a, Frame for prehung doors and windows
Figure 5b.1, Outer door frame
Figure 5b.2, Inner door frame
Figure 5b.3, Complete single door frame
Figure 5b.4, Nailing sequence
Figure 5b.5, Chalk lines, cut lines
Figure 5b.6, Inner door trim
Figure 5b.7, Complete door trim showing 7/16 inch gap between inner and outer trim
Figure 5c.1, Inner door uprights, siding breaks, and cripple stud spacing
Figure 5c.2, Inner door spacers and uprights
Figure 5c.3, Door trim spacing and underlying cut lines
Figure 5c.4, Complete door trim
Figure 6.1, 1-6 inch overhang combinations
Figure 6.2, Full overhang combinations
Figure 6.3, 1-6 inch overhang detail before trim boards
Figure 6.4, Side view 1-2 inch overhang details
Figure 6.5, Side view 4-6 inch overhang with trim boards
Figure 6.6, Full overhang detail
Figure 6.7, Full overhang showing bird boards between rafters
Figure 6.8, Full overhang top view
Figure 6.9, Full overhang showing rafter support cut-outs and spacing
Figure 7.1, Porch side view
Figure 7.2, Porch components
Figure 7.3, Porch front view
Figure 8.1, Compact vertical bike shed
Figure 8.2, Interior dimensions of my original compact bike shed
Figure 8.3, Free standing 4×8 vertical bike shed
Figure 8.4, Flush fit 4×8 vertical bike shed
Figure 8.5, Interior dimensions for a 4×8 vertical bike shed
Figure 8.6, Top view showing clearance and fit for large bikes
Figure 8.7, 4×8 Gable roof vertical bike shed
Figure 8.8, Low profile bike shed
Figure 8.9, End view and trim details
Figure 8.10, Small door framing details
Figure 8.11, Interior dimensions for 96 inch long low profile bike shed
Figure 8.12, Interior dimensions for 72 inch long low profile bike shed

Figure 1: Detailed view of framing
Figure 2: Floor dimensions and layout
Figure 3: Simple jig, truss components
Figure 4a: Gable end wall layout showing stud spacing and bottom siding overhang
Figure 4b: Front cross section showing 14 degree angle on sidewall studs
Figure 4c: sidewall stud spacer detail
Figure 4d: Sidewall layout showing stud spacing and siding overhang
Figure 5a: Outer door frame including sandwiched header
Figure 5b: Inner door frame
Figure 5c: Nailing sequence
Figure 5d: Chalk lines
Figure 5e: Complete door trim showing 7/16 inch gap between inner and outer door trim
Figure 6: Wall dimensions and layout
Figure 7: First router cut
Figure 8: Sidewall cross section with truss layout
Figure 8a: Sidewall cross section with optional overhang
Figure 9: Trim

Figure 1.1, Skid spacing
Figure 1.2, Concrete block spacing
Figure 2.1, Floor dimensions
Figure 2.2, Rim joist splice for floor over 20ft
Figure 2.3, Floor frame complete
Figure 3.1, Truss dimensions
Figure 3.2, Truss jig
Figure 3.3, Extra braces for 14 & 16 wide trusses
Figure 3.4, Finished truss comparison… 6/12 vs 12/12 pitch
Figure 3.5, Gable end blocking
Figure 3.6, Frame a loft door into the gable end
Figure 3.7, Template for 6/12 pitch
Figure 4.1, Wall dimensions
Figure 4.2, Wall layout
Figure 4.3, End wall framing
Figure 4.4, Side wall framing
Figure 5a, Frame for prehung doors and windows
Figure 5b.1, Outer door frame
Figure 5b.2, Inner door frame
Figure 5b.3, Complete single door frame
Figure 5b.4, Nailing sequence
Figure 5b.5, Chalk lines, cut lines
Figure 5b.6, Inner door trim
Figure 5b.7, Complete door trim showing 7/16 inch gap between inner and outer trim
Figure 5c.1, Inner door uprights, siding breaks, and cripple stud spacing
Figure 5c.2, Inner door spacers and uprights
Figure 5c.3, Door trim spacing and underlying cut lines
Figure 5c.4, Complete door trim
Figure 8.1, Roof framing details

Figure 1.1, Skid spacing
Figure 1.2, Concrete block spacing
Figure 2.1, Floor dimensions
Figure 2.2, Rim joist splice for floor over 20ft
Figure 2.3, Floor frame complete
Figure 3.1, Truss dimensions
Figure 3.2, Truss jig
Figure 3.3, Gambrel end framing
Figure 3.4, Overhang details
Figure 3.5, Truss comparison
Figure 3.6, Crows beak dimensions
Figure 3.7, Crows beak framing detail
Figure 3.8, Crows beak sheeting detail
Figure 4.1, Wall dimensions
Figure 4.2, Wall layout
Figure 4.3, End wall framing
Figure 4.4, Side wall framing
Figure 5a, Frame for prehung doors and windows
Figure 5b.1, Outer door frame
Figure 5b.2, Inner door frame
Figure 5b.3, Complete single door frame
Figure 5b.4, Nailing sequence
Figure 5b.5, Chalk lines, cut lines
Figure 5b.6, Inner door trim
Figure 5b.7, Complete door trim showing 7/16 inch gap between inner and outer trim
Figure 5c.1, Inner door uprights, siding breaks, and cripple stud spacing
Figure 5c.2, Inner door spacers and uprights
Figure 5c.3, Door trim spacing and underlying cut lines
Figure 5c.4, Complete door trim
Figure 8.1, Roof framing details

Detailed Dimensions Diagrams

4 ft wide, 60 inch (tall) wall height, 1-6 inch overhang
4 ft wide, 72 inch (tall) wall height, 1-6 inch overhang
4 ft wide, 8 ft (tall) wall height, 1-6 inch overhang
4 ft wide, 8 ft (tall) wall height, full overhang
6 ft wide, 72 inch (tall) wall height, 1-6 inch overhang
6 ft wide, 8 ft (tall) wall height, 1-6 inch overhang
6 ft wide, 8 ft (tall) wall height, full overhang
6 ft wide, 8 ft (short) wall height, full overhang
8 ft wide, 8 ft (tall) wall height, 1-6 inch overhang
8 ft wide, 8 ft (tall) wall height, full overhang
8 ft wide, 8 ft (short) wall height, full overhang
10 ft wide, 8 ft (tall) wall height, 1-6 inch overhang
10 ft wide, 8 ft (tall) wall height, full overhang
10 ft wide, 8 ft (short) wall height, full overhang
10 ft wide, 10 ft (short) wall height, full overhang
12 ft wide, 8 ft (tall) wall height, 1-6 inch overhang
12 ft wide, 8 ft (tall) wall height, full overhang
12 ft wide, 8 ft (short) wall height, full overhang
12 ft wide, 10 ft (short) wall height, full overhang

Options

Foundation for building a shed without a floor
Build on a concrete slab
Single or double shed doors
Frame for pre hung doors and windows
Attached porch
Customize your overhang dimensions
Screened eave ventilation

Foundation for building a shed without a floor
Build on a concrete slab
Single and double doors
3/12, 4/12 and 5/12 roof pitch
7 or 8ft side wall height
2, 3 1/2 or 5 1/2 inch overhang

Foundation for building a shed without a floor
Build on a concrete slab
Single or double shed doors
Frame for pre hung doors and windows
4 ft wide loft
6/12 or 12/12 roof pitch
Customize your overhang dimensions
Screened eave ventilation

Foundation for building a shed without a floor
Build on a concrete slab
12 Inch (custom) overhang on all 4 sides
(Decorative) Crows Beak
Single or double shed doors
Frame for pre hung doors and windows
Full width loft
Screened eave ventilation

Total page count
Over 150 pages
Over 100 pages
Over 100 pages
Over 100 pages

Buy Now

Which Plans Should You Buy For Your New Shed Project?

Are you thinking about buying some shed plans but are confused and don't know which ones to buy?

I will explain the similarities and difference between my 4 shed plans to help you in deciding which one is best for your new shed project.

The Main Differences Between These Plans Are

Roof line
Roof pitch
Roofing materials used
Eave overhang
Maximum length & width
And the degree of difficulty to build

Roof Line

The most obvious difference in these plans is the roof lines. 2 of the plans are gable style roof, 1 is barn style or gambrel roof line and one is the single slope, lean-to style or flat roof.

Roof Pitch

The regular gable shed plans have 3 roof pitch options; 3:12, 4:12 and 5:12. The deluxe shed plans also have 3 roof pitch options of 3:12, 6:12 and 12:12. So the deluxe plans are good if you need a steep pitch for snow or leave fall off.

The barn roof pitch is fixed for the upper and lower half of the roof. The lean style roof is fixed at 1.5:12. So it's good in low clearance situations or where the overall heigh is an issue.

Roof Materials

All the shed plans except the lean to style use shingles on the roof. The advantage of shingles is that they're relatively easy to install, economical and come in a wide variety of colors and textures and have a lifespan of up to 30 years. And you can easily match the roof on your home if necessary.

The lean to style sheds have too shallow of a roof pitch for shingles so they use either rolled mineral roofing or metal. Metal is a little more expensive but it's fast and easy to install and has a life span of 50+ years.

Eave Overhang

There are 2 types of eave overhangs available in these plans. The simple 2-6 inch overhang and the full 12+ inch overhang. The 2 inch overhang is just the trim and a small overhang on the OSB. The 4 to 6 inch version is a 2×4 or 2×6 turned on edge.

The regular gable roof plans only offer the simple 2-6 inch overhang but the lean to and barn plans can be build with the either the 2-6 inch overhang or a full 12 inch overhang. The deluxe shed plans only offer the full 12 inch overhang.

Maximum Length

With the regular gable and the lean to style plans the longest shed you can build is 20 ft. This is because they use a single top plate and 20 feet is the longest 2×4 you can buy. And with the single top plate it can't be spliced to make longer. If you want a shed thats over 20 ft long then you can use either the tall barn style plans or the deluxe plans. Both of these can go up to 32 ft in length. But you can make it as long as you like.

Maximum Width

The gable roof and lean to style plans are limited to 12 ft in width because they use a simple truss or rafter design. If you want to build over 12 ft wide then the tall barn and deluxe plans go up to 16 ft in width because they use a stronger but more complicated truss design.

Degree Of Difficulty To Build

The regular gable roof shed plans are the easiest and most economical to build because the walls are symmetrical and there are no complicated trusses to build or fancy overhang options. Trusses and overhang can are very time consuming in the shed building process.

The lean to sheds aren't symmetrical but the rafters are strait without any cut outs and you can build it with either the simple 2-6 inch overhang or the more complicated full 12+ inch overhang.

Barn style trusses are easy to build but the added difficulty is working on the roof because of the increased pitch and greater overall working height. But you can build it with either overhang option.

The Deluxe shed is the most difficult to build because it doesn't offer the simple overhang option, only the full 12 inch overhang. And the the trusses are more complicated because of the increased pitch and the 14 and 16 ft width options. And like the tall barn style shed, working on the deluxe roof is more difficult because of the steeper pitch and greater overall working height.

What They Have In Common

Now lets talk about what the plans have in common.

Floor
Wall Stud And Truss Spacing
Doors
Ramp
Estimate Cost To Build
Instant Download

Floor

All of the sheds can be built on either a wood floor or concrete slab. For wood floors I have recommend 2×4's at 16 inch on center for floors up to 8 ft wide, and 2×6's 16 inch on center for floor over 8 ft wide. But you can make a stronger floor by using 12 inch centers and or 2×8's floor joists.

Wall Stud And Truss Spacing

I recommend 2×4's at 16 inch on center in the walls but you can use 24 inch centers for smaller sheds. I recommend trusses and rafters to be placed at 24 inch on center for sheds up to 12 ft wide, and 16 inch centers for sheds over 12 ft wide.

Doors

All sheds include instructions to frame for prehung doors and windows, or to build your own single or double door in any width or height and in any location, or build multiple doors.

Ramp

All plans include instructions to build a ramp.

Estimate Cost To Build

All plans come with a materials list so you can calculate the cost to build it before you make that final commitment and start buying materials.

Instant Download

All plans are available in PDF format by instant download. When you click on the buy-now link you'll be taken to a payment page. After paying you will almost instantly receive a download link in the email address associated with your paypal account or your credit card.

How Does The Download Process Work?

Within seconds of your purchase a download link will be sent to the email address associated with your PayPal account.
When you click on that link it will take you to a very simple page that says to "click here to download shed plans".
When you click on the link it will open a download window. The window will give you the option to save or to open the file.
Click the save option and download the plans to your hard drive.
Then open the file with an PDF viewer. If you need a free PDF viewer you can find one here.

Sometimes your email and your browsers will not work properly together so you will have to cut the link from the email and paste it into a browser. That solves most of the issues.

But remember where you download the plans otherwise you will not be able to find them on your computer when you need them. Most people use the default download folder.

Buy Now